Summer 2020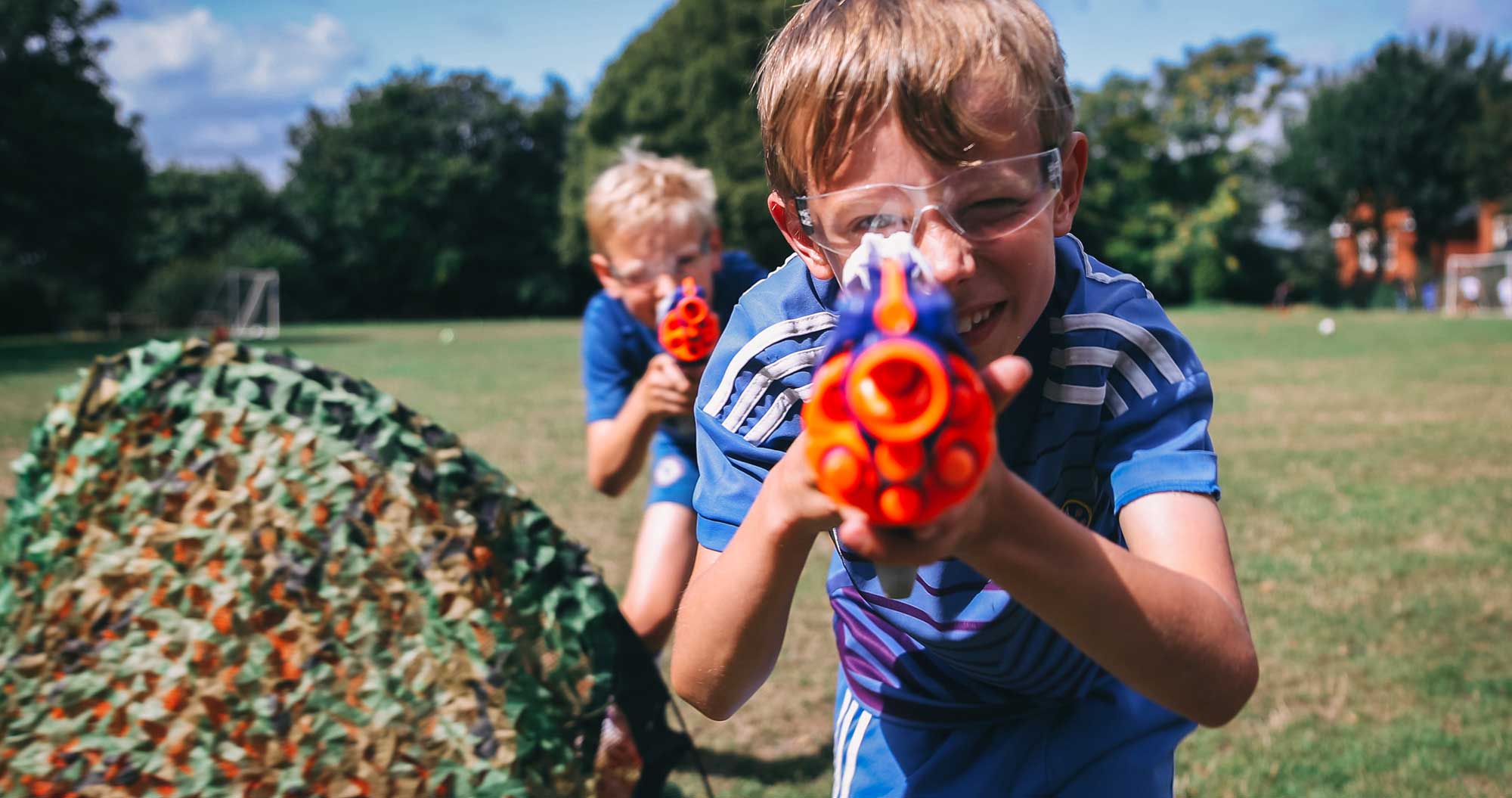 It is with much excitement that we are able to announce our plans for this year's summer camps. Having been stuck indoors for several weeks, we know many children will be excited at the thought of coming to camp and with what we have planned, we know they are going to have a great time.
As you might expect, we are doing things differently this year and will be running a reduced timetable compared to what we would usually do over a summer holiday. To align with government guidelines we will be making changes to the way our bookings work, which I will share shortly here.
Before we do share our plans, it is important to mention that our plans may change, depending on government guidance we expect to be released on the 4th July. As a result, we are not going to open up our booking until the 29th of June (from 7:00am). However we wanted to let parents know our plans so that you can plan your summer and also you might wish to speak to friends and family to book places together to ensure you child and his/her friends are in the same "bubble" of booking.
Here's how things will work this summer
You can only book a block booking for a camp. In most instances the choice is either a full week, 3 day week or two day week. There are 15 spaces per block booking and each group will not interact with the other groups. This is essentially their bubble. Throughout the week/3 days/2 days this group will have the same 2 coaches with them and not interact with the other groups, having their own designated spaces. The diagram below shows how this will work.
NOTE: There is no single day bookings and you will not be allowed to show up on the day and pay. You must book online before the camp date.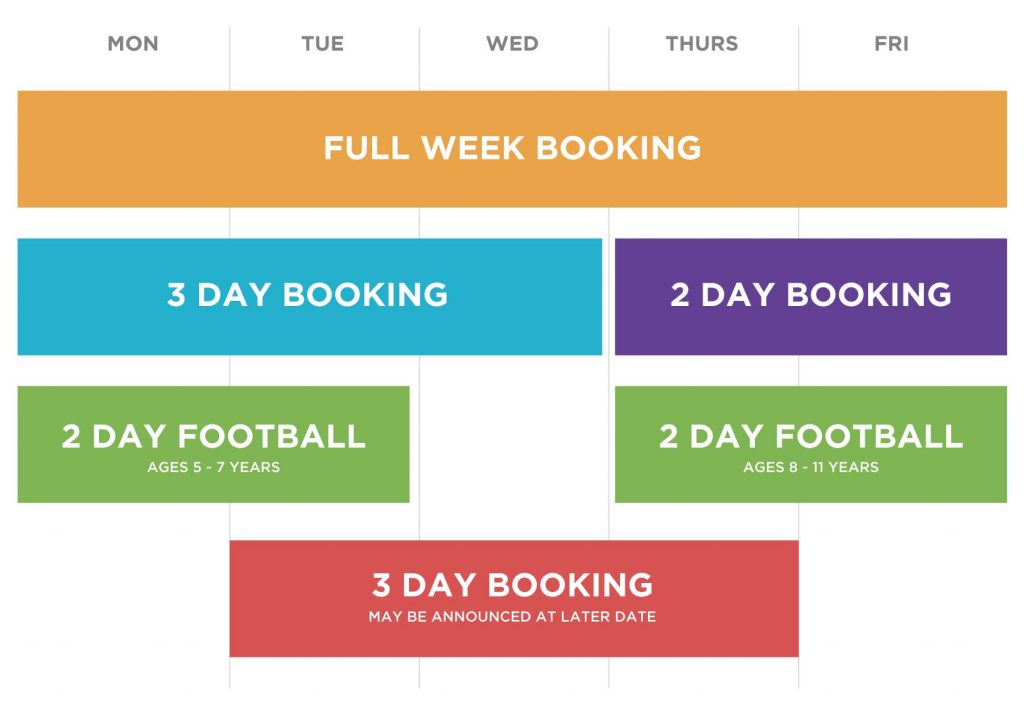 All camps will be SUPER THEMED! Running less venues means we can have more equipment at each venue and having children come for a block booking means we can develop an awesome team culture amongst that group.
Groups will work on a schedule throughout the day across multiple themes, so for example: The "full weekers" might do Wacky Racers in the morning and NERF in the afternoon, where as the "3 Day campers" might do archery in the morning and water activities in the afternoon. Each group will have their own equipment and in the rare instance that equipment is used by two groups on the same day, it will be wiped down and cleaned between the second group using it.
So what schedule are we planning? Well, below is what we intend to make available for booking from the 29th of June (opening at 7:00am online). Please be aware; our plans could change. As the summer goes on, we may be able to add more camp bubbles (such as the three day shown in red above), depending on the government guidance. We might have to run less if the government announce changes on the 4th July. Our intention here is to keep parents in the loop of what we intend to do, so you can plan and communicate with friends so you book your children into the same bubble.
Our Proposed Summer Schedule
Update 26th June 2020: We have been unable to secure our usual venue of Ashford School in Ashford. This is due to school preparing for their new intake of students in September with all the measures they need to put in place following Covid-19. Unfortunately with current circumstances, we as a company would not want to operate under our planned safety measures and precautions at a new venue we are unfamiliar with. So we have made the tough decision to not run a camp in Ashford this summer. We apologise for the inconvenience this might cause parents and hope you would consider travelling to our other locations.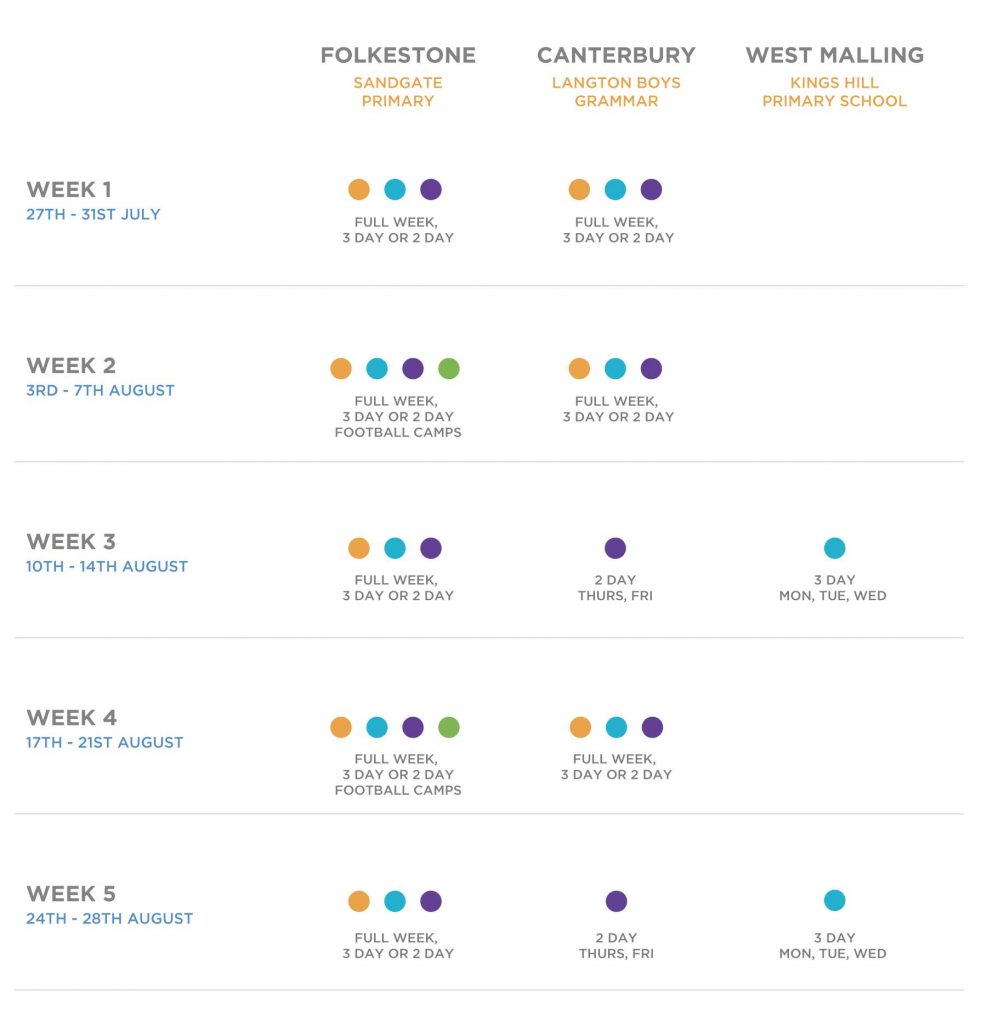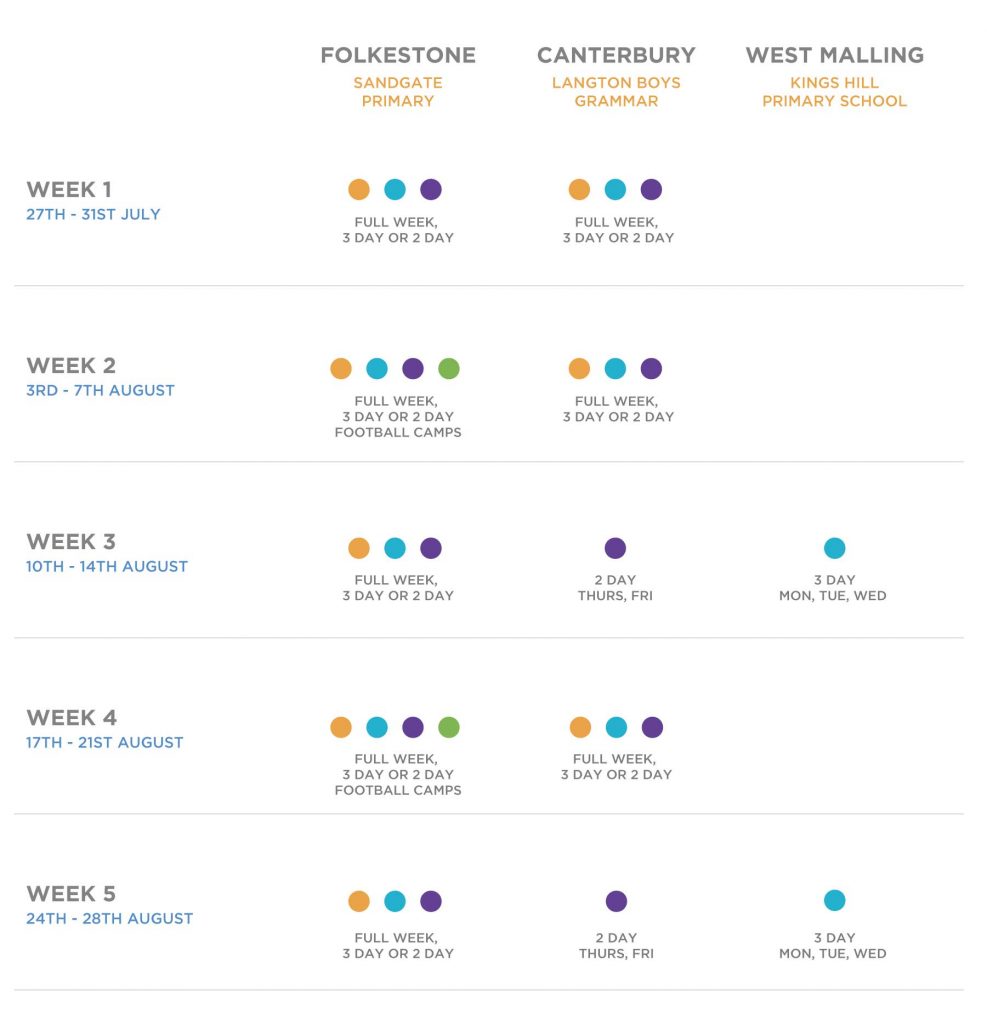 I hope this information keeps you updated with what we plan to do as a company.
We only intend to have 2 venues operating at one time, so that we can use our most senior staff at these locations. Staff whom are qualified teachers and professionals overseeing the running of the activities in their bubbles. Our ratios for the summer will therefore be a 1:8 (7.5 to be exact).
Finally, just to say. We recognise this is not an easy time for all. So if for any reason throughout the summer you do not feel comfortable with your children coming to our camps, or your personal circumstances do change in relation to the impact of Covid-19, we would of course refund for the days not used, allowing other children to fill these spaces.
We also encourage parents, if a camp you wanted is full, to add your name to the waiting list. Our booking software will then automatically add you if someone does cancel, and it allows us to make decisions whether we want to open more bubbles throughout the summer, as the weeks progress.
Finally, if you would like more detail regarding the things we are doing this summer to make camps safer, you can read more about this here.
Wishing you all well and hoping that our plan will go ahead as outlined, and we will see you this summer!
Ian (Director)