The new name for high 5 sports
These are our current vacancies at Venture Camps. Please email [email protected] (cc' in [email protected]) to apply for a position, giving details of your experience and qualifications in a covering email with an attached CV
Primary School PE Teacher/Sports Coach (Full Time)
At Venture Camps we are seeking an experienced Sports Coach/PE teacher who is passionate about creating remarkable sports experiences for primary-aged children, whether it be during school or out of school activities.
As Kent's leading Holiday Camp company, you will work alongside our full-time team to plan and deliver the very best sports and activity events, lessons and out of school clubs, whilst helping oversee the training and development of young coaches across the country, with our NVQ programmes.
In this full time position, every day is different. Working in different schools, teaching different sports each day, you will travel during term-time to various schools around Folkestone, Ashford and Canterbury to deliver lessons and after-school clubs. During School holidays you will lead and oversee the operation of one of our 4 holiday camp venues, ensuring the very best experience for all the children that attend. Finally, in between coaching you will work with the team to plan for lessons ahead and also help in the delivery of NVQ qualifications via remote learning across the country.
We are looking for someone who loves to teach sport. Someone who teaches with energy and in a way that shows they love what they do. Keeping all children engaged and interested every lesson and every activity.
Responsibilities of the role will include:
Teaching a range of sports in primary schools, including football, gymnastics, tag-rugby, basketball, tennis and athletics.
Planning and delivery of activities as a lead at one of our holiday camp venues (school holidays), which includes supervising other staff, the day-to-day activities and being the responsible person on site, reporting to Senior Camp managers and administrators.
Coaching after-school programmes and early evening clubs.
Preparing lesson plans, schemes of work and risk assessments for events and activities that take place in and around schools. Including the planning of these events and the organisation of equipment and staffing. Working remotely and at our office with other members of the team.
Coaching football to primary aged children at our at our central Saturday football club.
Delivery of online lessons in the delivery of our NVQ programmes to students aged 19+, as well as marking and tracking progress along these courses.
Required Qualifications
The successful candidate must hold:
A bachelor's degree or equivalent in a Sports related discipline (E.g. Sports Coaching) and/or an NVQ3 in the delivery Supporting the delivery of Physical Education in Schools.
A full UK driving license and the ability to drive to and from schools day to day.
Preferred Qualifications/experience:
QTS in Physical Education (with or without NQT approval).
Experience working in primary schools or secondary schools teaching within a PE department.
Paediatric First Aid qualification.
A level 2 Coaching certificate in a sport which has been an area of focus for them.
Level 1/2 coaching qualifications.
Gymnastics Coaching Certificates.
About Venture Camps
Venture Camps exists to deliver the very best holiday activity camps during half terms and school holidays. During term time our team are busy providing high quality physical education and sports coaching to primary schools throughout the Kent and the South East.
Our aim to empower young people with the skills and attributes that are vital in sport and physical activity and promote a positive attitude towards themselves and others. Through participation at our camps, clubs or PE lessons we hope that children develop their confidence and are enabled to experience achievement and success that can be translated into many areas of their future lives.
From their very first visit, we hope that every child and parent recognises our passion and enjoyment for what we do. We so thoroughly enjoy leading the activities day to day, that a sense of community and teamwork is established in every holiday camp, PE lesson or after school club. It is this culture within our company that sets the environment for children to learn and do their very best, knowing that they will only feel a sense of encouragement from the coaches and staff around them.
Role: Primary School PE Teacher/Sports Coach
Pay: £19,000 – £23,000 per annum (depending on Experience)
Start Date: January 2022
Application closing date: December 15th 2021
Holiday Camp Coaches (Flexible)
We are looking for qualified teachers, teacher assistants or coaches who are looking for additional work in the holidays, working at our holiday camps.
You are not obliged to work every school holiday, but instead you let us know the holiday weeks that work for you. This position is ideal for educational professionals looking to earn extra money throughout holiday time. Experience working with primary school children and also coaching sports or working in environments of play is preferred.
A fun packed working experience, if you love playing sport and playing games, this is a great position for you! Email [email protected] to apply and learn more.
Venues
Click the town nearest you
Reviews
My Children have been going to these camps for several years and absolutely love them! The staff are so friendly and super organised!
From the moment you sign your child in at camp you can tell how good the day is going to be. You see all the Karts and tracks all set up and the coaches immediately connect with the children and make them feel so at home!
My boys always come home happy and worn out! Which is a good thing! They always have the best time and tell us the different things they have done throughout the day.
Activities & Theme Days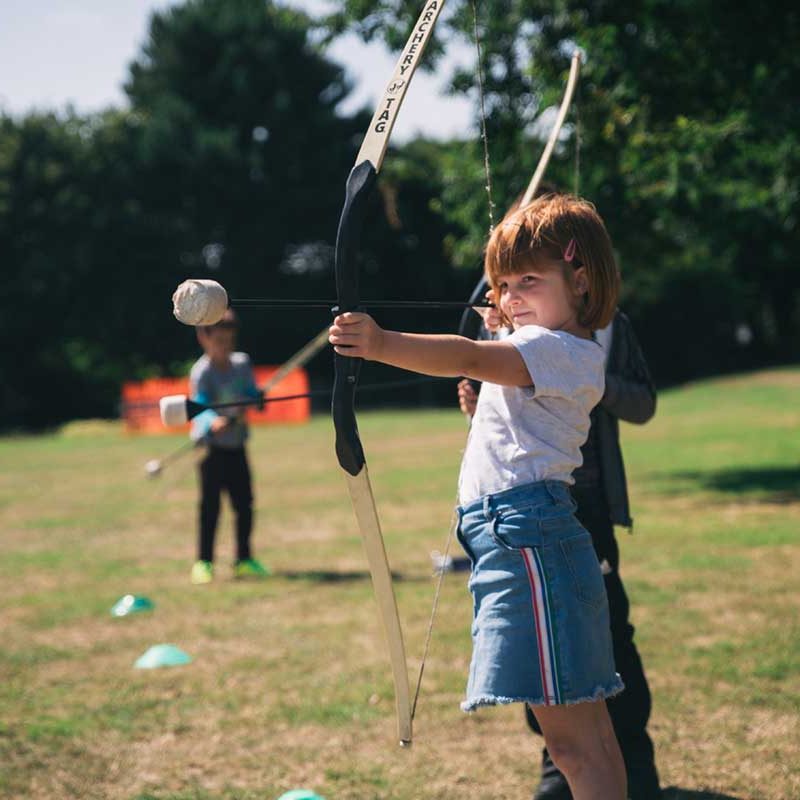 Archery Tag
Learn Archery skills throughout the day, building up to Archery Tag games in the afternoon. Archery tag is a dodgeball like game with bows and foam-tipped arrows. Utilise your Archery Skills, strategise and work as a team to win our epic capture the flag competitions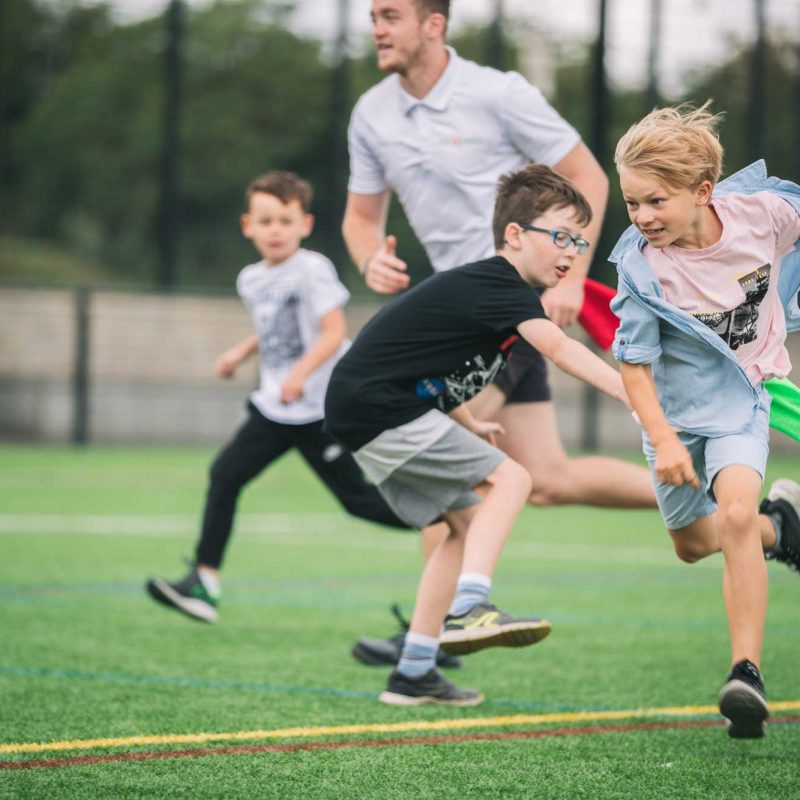 Inflatables and Crazy Games
Inflatable Obstacle Course, Sumo Suits and other inflatable fun. Children also take part in numerous fun games, multi-sports and of course lots of dodgeball games and tournaments. Great for children with lots of energy to burn!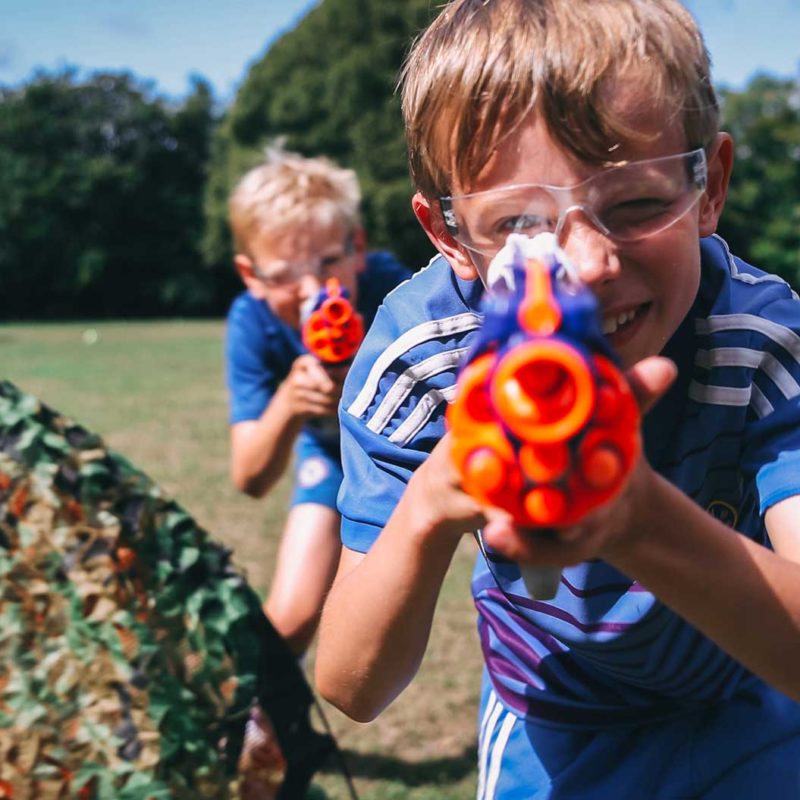 NERF Mission Spy
Complete our shooting range and prepare for capture the flag, VIP and cannonball run, whilst taking part in some epic NERF gun battles. All children wear protective goggles when playing and the coaches ensure that children do not fire too closely to each other and that no shots are made above shoulder height.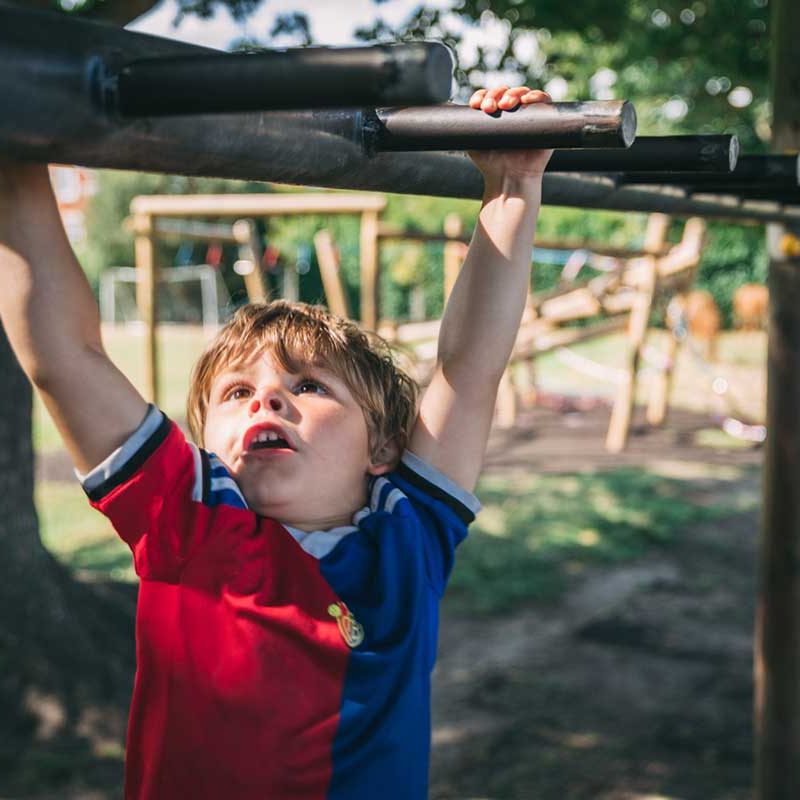 Ninja Warrior
Ninja Run, Cannonball Run and Ninja Chase! These are just some of the things we get up to on a Ninja Warrior day. Children train like Ninja's for the day, taking on obstacle courses, climbing challenges as well as problem solving and team games.